Angélique Kidjo
YanYanKliYan Senamido
In Two Parts
Program Notes
YanYanKliYan Senamido #1 & #2 (2020)

Angélique Kidjo
(b. 1960)
Composed for
50 For The Future:
The Kronos Learning
Repertoire
Arranged by Jacob Garchik
(b. 1976)
Artist Statement
"In 2014, I recorded an album called EVE, a tribute to my late mother and to the women of Africa. A few groups of Beninese women sung the choruses of my songs. I recorded a song with just vocals and traditional percussion. The rhythm was really complex and typical from Benin. Once the song was finished, I felt something was missing and I had the idea to invite the Kronos Quartet who had great experiences working with African artists. The result, a piece called Ebile, was a revelation. They had captured the complexity of the Beninese polyrhythms and brought a great energy to the track.
"When the Quartet reached out to me for their Fifty for the Future initiative, I could not say no and decided to work on a piece inspired by traditional melodies from Benin. In Beninese traditional music, there is not a clear separation between melody and rhythm. Each percussion is playing a melodic pattern and each vocal melody had a very complex rhythm. I knew the Quartet would be able to play all these grooves and tight rhythms like a group of Africa percussion players would do. I hope YanYanKliYan Senamido will become, for future students, a brief introduction of the beautiful music of my country."
Composer Interview
Angélique Kidjo, a composer for Kronos' Fifty for the Future, discusses her musical background, her composition process, the piece she wrote for Fifty for the Future, and more.
Artist's Bio
Angélique Kidjo
Benin / USA
Three-time Grammy Award winner Angélique Kidjo is a creative force in international music today, a creative force with thirteen albums to her name. She is the recent recipient of the prestigious 2015 Crystal Award given by the World Economic Forum in Davos, Switzerland and the 2016 Amnesty International Ambassador of Conscience Award.

As a performer, her striking voice, stage presence and fluency in multiple cultures and languages have won respect from her peers and expanded her following across national borders. Kidjo has cross-pollinated the West African traditions of her childhood in Benin with elements of American R&B, funk and jazz, as well as influences from Europe and Latin America.

Kidjo's latest project is her interpretation of The Talking Heads' classic 1980 album, Remain in Light. She recorded her version of the album with superstar producer Jeff Bhasker (Kanye West, Jay Z, Drake, Beyoncé, Bruno Mars, and Taylor Swift), taking classic songs such as "Crosseyed and Painless," "Once in a Lifetime," and "Born Under Punches (The Heat Goes On)" and reinterpreting them with electrifying rhythms, African guitars, and layered backing vocals. Kidjo brings this musical extravaganza to concert halls and festivals across the globe including a premier performance at Carnegie Hall and other performances in LA, London, Seattle, Berkeley, and Abu Dhabi.

Her star-studded album DJIN DJIN won a Grammy Award for Best Contemporary World Album in 2008, and her album OYO was nominated for the same award in 2011. In January 2014 Kidjo's first book, a memoir titled Spirit Rising: My Life, My Music (Harper Collins) and her twelfth album, EVE (Savoy/429 Records), were released to critical acclaim. EVE later went on to win the Grammy Award for Best World Music Album in 2015, and her historic, orchestral album Sings with the Orchestre Philharmonique Du Luxembourg (Savoy/429 Records) won a Grammy for Best World Music Album in 2016.

Kidjo has gone on to perform this genre-bending work with several international orchestras and symphonies including the Bruckner Orchestra, The Royal Scottish National Orchestra, and the Philharmonie de Paris. Her collaboration with Philip Glass, IFÉ: Three Yorùbá Songs, made its US debut to a sold-out concert with the San Francisco Symphony in June 2015. In addition to performing this new orchestral concert, Angelique continues to tour globally performing the high-energy concert she's become famous for with her four-piece band. Her rousing live show was recently captured at the revered Austin City Limits and made its television debut in January 2016.

Kidjo also travels the world advocating on behalf of children in her capacity as a UNICEF and OXFAM goodwill Ambassador. She created her own charitable foundation, Batonga, dedicated to support the education of young girls in Africa.
Support Kronos' 50 for the Future
Help support Kronos' 50 for the Future as we commission fifty new works designed expressly for the training of students and emerging professionals.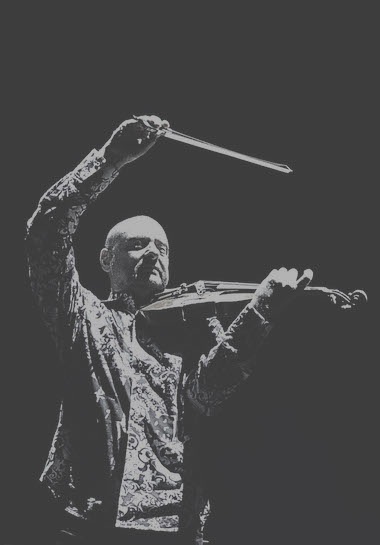 Angélique and her piece both have so much energy, and it's such a joy to play because of that. It just engulfs you. Sometimes I want to get up in my chair and start dancing along. But I have to count, so I can't do that.
Kronos Quartet
World Premiere
December 2, 2021
Cal Performances
Zellerbach Hall /
Berkeley, California
More Info