Karin Rehnqvist
Program Notes
The Riddle (Gåtan)
(2017)
Karin Rehnqvist
(b. 1957)
Composed for
50 For The Future:
The Kronos Learning
Repertoire
Artist Statement
"A melody winds its way through the instruments of the string quartet.
It begins from nowhere and ends in nothingness. Where did it go?
Where did it come from?
"The melody begins in the viola. It is simple, like a folk tune. The violins and cello comment, support, resist. Note by note, phrase by phrase, the music sounds out its path. Repeated notes go quickly from piano to forte. The music pauses, gathers itself—then bursts forth in a rousing polska. The dance takes off in a triple meter, but an unusual one. The beats are of unequal length: the first short, the second twice as long, the third in between.
"The music keeps changing. It passes through varied soundscapes. After a tumble down to the cello's deepest notes, it swings up to the giddiest heights of the string registers. Here the atmosphere shimmers and trembles. In the foreground the violins play a duet, imitating each other in short phrases. Finally melody and music return to where they began, but now with a darker, more expressive character.
"Warm and expressive, bright and shimmering; dark and raw, light and airy. String instruments can make so many kinds of sounds. Just changing the manner of bowing can produce a near-infinite variety of timbres. You can play closer to the bridge or to the fingerboard. You can press firmly or lightly on the string. You can throw the bow against the string and let it jump. The string quartet also has a huge register. The cello's lowest string forms a boundary in the bass, but in the treble, with the help of harmonics, there is almost no limit to how high they can go: up and up, until the ear no longer perceives a pitch, only noise.
"As a composer, I set a process in motion. I search at length for the right idea, the one that sings. Composition takes a long time, so the idea must always be precisely right. What needs to be said? I unfurl my emotional antennae and listen in on the world. Then I let the music lead me. I need it to start 'writing itself'—showing me its possibilities. The music and I hold a conversation. From a state of deep concentration, something new arises. Notes, forms and rhythms emerge that surprise me. The voices find their paths.
"It is an exciting process, and a demanding one. I knead the musical material. In the finished piece only the indispensable should remain. Sometimes it all grinds to a halt. I stop making progress. The main thing is not to give up. Maybe the music just needs a break, some more time to be sculpted by the subconscious.
"Once the score is in place, I meet the musicians. The rehearsal process is always highly enjoyable! Here the music grows, shaped by dedicated musicians with frequent suggestions and insights based on their knowledge, experience and artistic practice. The music now has a body, a character. From blank staff paper, it now feels self-evident that this particular music should exist.
"So where does the music come from? And where does it go?
Will it sweep out on a parabola into space, to touch down at last in some other string quartet, with some other audience, in some other room?
Will it find its way inside of you and play on there?"
English translation by Robin Blanton
Composer Interview
Karin Rehnqvist discusses her musical background, her composition process, her relationship with Kronos, and more.
Artist's Bio
Born in 1957, Karin Rehnqvist is one of Sweden's best-known and widely performed composers. With regular performances throughout Europe, USA, and Scandinavia, her range extends to chamber, orchestral, stage, and vocal music. Above all, she enjoys working with unusual, cross-genre forms and ensembles. One strong characteristic feature of her work is her exploration of the areas between art and folk music. Both elements are integral and never merely used for effect or as a nostalgic element. In particular, Rehnqvist has explored the extraordinary and dramatic vocal technique of Kulning.
Between 1976 and 1991, Karin Rehnqvist conducted and was the artistic director of the choir Stans Kör. This cemented her special affinity with vocal music and also fired her interest in experimental approaches to concert presentation.
Between 2000 and 2004, Rehnqvist was Composer-in-Residence with the Scottish Chamber Orchestra and Svenska Kammarorkestern in collaboration. For them she composed a series of works including a concerto for clarinetist, Martin Fröst, and the much performed symphonic work, Arktis Arktis!, inspired by a polar expedition in the summer of 1999. These two works feature in Rehnqvist's latest CD on the BIS label, released to critical acclaim in May 2005.
Rehnqvist's skill at writing for musicians of different abilities, and especially young performers, has often been praised: like the best music for young performers, her works make no artistic compromises, and challenge the musicians while recognizing realistic technical limits. Most recently her choral symphony Light of Light, which features children's choir and symphony orchestra, was singled out for critical acclaim at its world premiere in Paris in 2004, and has enjoyed subsequent performances in the UK and Sweden.
Karin Rehnqvist has received many prizes for her music: In 1996 the Läkerol Arts Award "for her renewal of the relationship between folk music and art music." That same year, she was awarded the Spelmannen Prize by the daily newspaper Expressen, and in 1997 she received the Christ Johnson Prize for Solsången (Sun Song). In 2001, she was awarded the Kurt Atterberg Prize, and in 2005/06, the Rosenberg Award. Also in March 2006, Rehnqvist was accorded the honor of a major retrospective by the Royal Stockholm Philharmonic Orchestra. In 2014, Karin Rehnqvist was awarded a Swedish Grammy for the CD LIVE, and Prix Italia for Klockrent – A Very Large Concert, scored for 200 church bells on the island Gotland.
In 2009, Karin Rehnqvist was appointed Professor of Composition at the Royal College of Music in Stockholm, making her the first woman to hold a chair in composition in Sweden.
Support Kronos' 50 for the Future
Help support Kronos' 50 for the Future as we commission fifty new works designed expressly for the training of students and emerging professionals.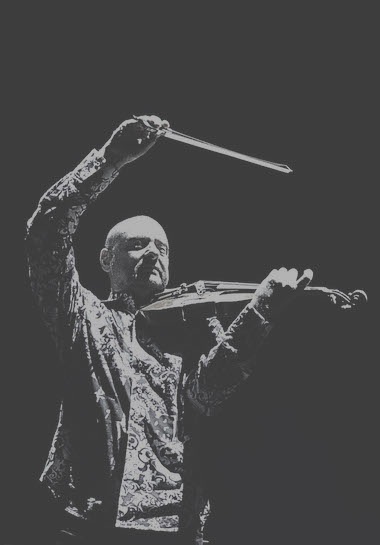 Learning The Riddle was such a wonderful experience, not only because it's such a beautiful piece, but also because our first rehearsal was with Karin in Sweden, which was perfect because it has a Swedish folk melody in it. You internalize your surroundings just walking around a place, so getting to learn the piece while absorbing the Swedish culture around us was hugely helpful for finding the right character and color of those melodies.

Kronos Quartet
World Premiere
May 5, 2017
Uppsala Konsert & Kongress
Stora Salen /
Uppsala, Sweden
More Info