Laurie Anderson
Shutter Island
In Three Movements
Program Notes
Shutter Island (2017)
I. Shutter Island
II. Crystal
III. Airy
Laurie Anderson
(b. 1947)
Composed for
50 For The Future:
The Kronos Learning
Repertoire
About the work
Laurie Anderson's first collaboration with Kronos Quartet centered on the experience of loss. Her mordant, wry, and disquieting account of the devastation wrought by Hurricane Sandy became the emotional core of the Grammy-nominated 2018 album Landfall (Nonesuch), though she started writing and performing with Kronos a year before the epic 2012 storm. Somehow, after decades of moving in overlapping creative circles, Anderson and Kronos carved out time for an extended sojourn as her life took a series of wrenching turns. The resulting song cycle is unlike anything else in Anderson's vast, variegated, and endlessly entertaining oeuvre.
Over more than four decades, Anderson has created radically inviting works that encompass songs and recitation, soundtracks and literary meditations, solo performances, and multimedia installations. An inventor who has thrived using cutting edge technologies, she's recorded bona fide pop hits (particularly 1981's "O Superman") and served as NASA's first artist-in-residence. It was only a matter of time before she joined forces with Kronos.
"We've been on the same circuit for decades, waving as our buses passed," Anderson says. "It surprised all of us that we'd never done anything before. It was great fun coming up with things. I'd write phrases, and they'd play them and improvise and I'd work with the improvisation. It wasn't like I was sitting in my studio and handed them the complete score. This really was a collaboration."
In many ways, Anderson's Shutter Island is an outpost that extends the singular Landfall odyssey. Commissioned as part of Kronos' Fifty for the Future initiative and premiered March 17, 2017 at the Ecstatic Music Festival at The Greene Space at WNYC/WQXR, the piece carries Anderson's unmistakable DNA. Skittish and insistent, incantatory and beatific, Shutter Island offers fresh insight into the capacious creative universe of an artist whose search for new sounds and textures has led to fantastical destinations.
"Some of the experimenting that Kronos did with Laurie influenced the writing, but just how that influence manifested itself, I'm not sure," says Kronos' David Harrington. "I can recognize some of the licks as things that we were close to in the early improvising that we explored for Landfall. She recorded everything we did, and then she'd go through and mine and refine phrases. I think she used a little bit of that process here."
For Harrington, Shutter Island embodies the Fifty for the Future ideal in offering string quartets a portal into Anderson's universe "and the way she arrives at ideas," he says. "There are so many adventures that we get to have that other groups are never going experience unless we find a way of sharing." As for the title, Anderson avers that it has nothing to do with Dennis Lahane's 2003 novel or the 2010 film directed by Martin Scorsese. "The words just got picked out of a dictionary," she says. "It has nothing to do with anything. I still like the middle movement. The others I like technically, but the middle I can dream into."
Composer Interview
Laurie Anderson discusses her musical background, her composition process, the piece she wrote for Fifty for the Future, and more.
Artist's Bio
Laurie Anderson is one of America's most renowned—and daring—creative pioneers. She is best known for her multimedia presentations and innovative use of technology. As a musician, writer, director, visual artist, and vocalist she has created groundbreaking works that span the worlds of art, theater, and experimental music.
Her recording career, launched by "O Superman" in 1981, includes the soundtrack to her feature film Home of the Brave and Life on a String (2001). Anderson's live shows range from simple spoken word to elaborate multimedia stage performances, such as "Songs and Stories for Moby Dick" (1999). Anderson has published seven books and her visual work has been presented in major museums around the world.
In 2002, Anderson was appointed the first artist-in-residence of NASA which culminated in her 2004 touring solo performance "The End of the Moon." Recent projects include a series of audio-visual installations and a high definition film, Hidden Inside Mountains, created for World Expo 2005 in Aichi, Japan. In 2007 she received the prestigious Dorothy and Lillian Gish Prize for her outstanding contribution to the arts, and in 2008 she completed a two-year worldwide tour of her performance piece, "Homeland," which was released as an album on Nonesuch Records in June 2010. Anderson's solo performance "Delusion" debuted at the Vancouver Cultural Olympiad in February 2010. Also in 2010, a retrospective of her visual and installation work opened in São Paulo, Brazil and later traveled to Rio de Janeiro.
In 2011 her exhibition of all new work, titled "Forty-Nine Days In the Bardo," opened at the Fabric Workshop and Museum in Philadelphia. That same year she was awarded with the Pratt Institute's Honorary Legends Award. Her exhibition Boat, curated by Vito Schnabel, opened in May of 2012. She has recently finished residencies at both CAP in UCLA in Los Angeles and EMPAC in Troy, New York. Her film Heart of a Dog was chosen as an official selection of the 2015 Venice and Toronto Film Festivals.
Anderson lives in New York City.
Support Kronos' 50 for the Future
Help support Kronos' 50 for the Future as we commission fifty new works designed expressly for the training of students and emerging professionals.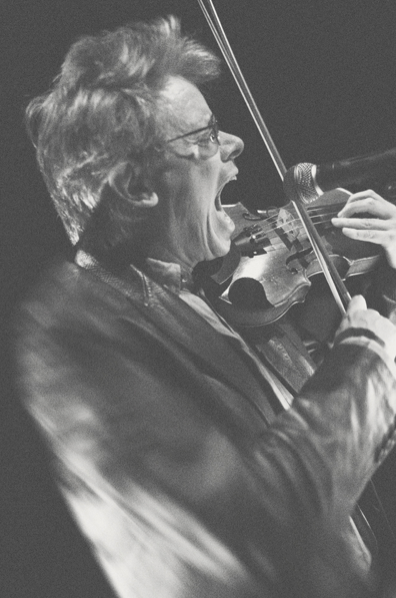 Laurie is a master collector, and I want others to be able to experience the way she draws things into her realm. She'll hear a note here, she'll hear a word there, and she'll just collect and collect. This kind of collecting is, I think, a really good thing for all of us to learn."
Kronos Quartet
World Premiere
March 7, 2017
Q2 Music
The Greene Space /
New York, New York
More Info