Misato Mochizuki
Program Notes
Boids
(2018)
Misato Mochizuki
(b. 1969)
Composed for
50 For The Future:
The Kronos Learning
Repertoire
Artist Statement
"Boids was composed as an apostil to Brains, a string quartet I wrote in 2017. They can be played separately, or enchained. In Boids, the violins and viola each have scales that represent 'personalities'—chromatic, whole tone, and pentatonic—that all swim together in the same direction to create the sense of a flock. Each strike from the cello is a stone thrown into the water: after each pizz the 'fish' disperse, but eventually they begin to flock together anew."
Composer Interview
Misato Mochizuki discusses her musical background, her relationship with Kronos, the piece she wrote for Fifty for the Future, and more.
Artist's Bio
Misato Mochizuki
Japan / France
Born in 1969 in Tokyo, Misato Mochizuki is equally active in Europe and in Japan. After receiving a Masters degree in composition at the National University of Fine Arts and Music in Tokyo, she was awarded first prize for composition at the Conservatoire National Supérieur in Paris in 1995, and then integrated the "Composition and Computer Music" program at IRCAM (1996–1997).

In her very own combination of Occidental tradition and the Asiatic sense of breathing, Mochizuki's style of writing developed magical rhythms and unusual sounds of great formal and stylistic freedom. Her catalogue of works (published by Breitkopf & Härtel) consists of about 40 works today, including 15 symphonic compositions and 12 pieces for ensemble. Her works, which have been performed at international festivals such as the Salzburg Festival, the Biennale di Venezia, the Folle Journée in Tokyo, the Lincoln Center Festival, have received numerous awards; the audience prize at the Festival Ars Musica in Brussels for Chimera in 2002, the Japanese State Prize for the greatest young artistic talent in 2003, the Otaka Prize for the best symphonic world premiere in Japan in 2005 (for Cloud nine), the Grand Prize of the Tribune internationale des compositeurs in 2008 (for L'heure bleue), and the Heidelberg Women Artists' Prize in 2010. Her most outstanding productions include the orchestral portrait concert at Suntory Hall in Tokyo (2007), the cinema concert at the Louvre with the music to the silent film Le fil blanc de la cascade by Kenji Mizoguchi (2007) and the portrait concert at the Festival d'Automne in Paris (2010).

Between 2011 and 2013 Mochizuki was composer-in-residence at the Festival international de musique de Besançon. Since 2007, she has been professor of artistic disciplines at the Meiji Gakuin University in Tokyo, and has been invited to give composition courses in Darmstadt, in Royaumont, in Takefu, at the Amsterdam Conservatory, and others. Within the framework of her activities, she continually reflects on the role of the composer in today's society and on the necessity to open oneself to it. In addition, Mochizuki writes about music and culture in her own column every three months for the renowned Yomiuri Shimbun, the most widely read daily newspaper in Japan.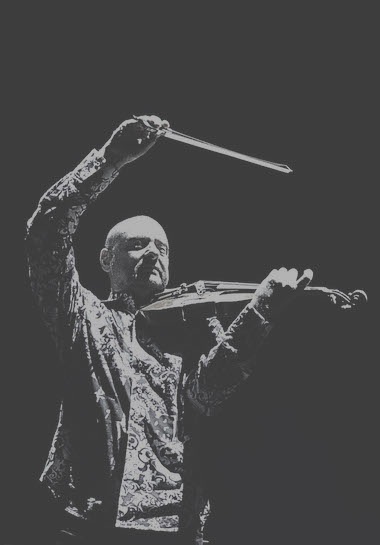 Boids is all about imagery. Go outside and watch a flock of birds, and then when you get the music in front of you, don't worry so much about the page, just think about those birds and how they fly together and then apart—the energy and the symmetry of that.
Kronos Quartet
World Premiere
January 25, 2019
Cal Performances
Zellerbach Hall /
Berkeley, California
More Info
Support Kronos' 50 for the Future
Help support Kronos' 50 for the Future as we develop this new learning library.