Susie Ibarra
<p>2018</p>
Duration: 7:30
Program Notes
Pulsation
(2018)

Susie Ibarra
(b. 1970)
Composed for
50 For The Future:
The Kronos Learning
Repertoire
Artist Statement
"Pulsation, like a pulse in the human body, is written with a continuous rhythm beating throughout the music, which flows through different pathways and patterns. Some beat patterns are inspired by pulsating signaling language from Philippine kulintang gong rhythmic modes. These are pulses that are beats of communication. Some of these patterns cross rhythms, changing how it feels, such as when a person experiences playing or listening to a polyrhythm. If we sit in these cross rhythms and listen to the shifts as it is played, our sense and perspective can shift where beginnings and ends are, and we can shift our sense of hearing multiple rhythms. Some of the patterns are unisons, emphasizing syncopated rhythm and melody.
"Pulsation moves continuously and shifts. It can be perceived as a line and a circle. The performers are also able to interchange or change the order of the sections, making it possible to start in various places and decide to end in another. There are also moments when a performer may improvise within certain rhythmic cycles of a sections.
"I wrote this piece imagining how Kronos Quartet could weave each of their pulses through each section. Each time it is performed, the piece can appear different with multiple variations of paths for the patterns. I'm eager to hear and learn where Pulsation naturally shifts, moves and flows with Kronos and any other group who performs it."
Composer Interview
Susie Ibarra discusses her musical background, her relationship with Kronos, the piece she wrote for Fifty for the Future, and more.
Artist's Bio
Susie Ibarra is a Filipina-American composer, percussionist, and sound artist. Her sound has been described as "a sound like no other's, incorporating the unique percussion and musical approach of her Filipino heritage with her flowing jazz drumset style" (Modern Drummer Magazine) and her compositions are sometimes described as "calling up the movements of the human body; elsewhere it's a landscape vanishing in the last light, or the path a waterway might trace" (New York Times). Recent commissions include Kronos String Quartet's 50 for the Future Project Pulsation, PRISM Saxophone Quartet + Percussion's Procession Along the Aciga Tree, Talking Gong trio with pianist Alex Peh and flautist Claire Chase, film score When the Storm Fades directed by Sean Devlin, and a multimedia game piece Fragility: An Exploration of Polyrhythms for Asia Society.
Susie Ibarra is a 2019 United States Artist Fellow in Music . She is a 2014 Senior TED Fellow and a 2018 Asian Cultural Council Fellow in support of her sound research of An Acoustic Story on Climate Change: Himalayan Glacier Soundscapes. She is recording and researching sound along the Ganges from source to sink in collaboration with glaciologist and geomorphologist Michele Koppes. Ibarra leads the DreamTime Ensemble, which recently released the album Perception, a suite of music exploring memory and shifting sensory experiences. She performs in collaborative ensembles Mephista, Yunohana Variations, and LIMBS. With ThinkFun Games, Ibarra is inventing an interactive polyrhythm game to teach rhythms. Since 2012, she has been a faculty member at Bennington College where she teaches percussion, performance, improvisation, and art intervention.
Susie Ibarra is a Yamaha, Vic Firth, and Zildjian Drum Artist.
Support Kronos' 50 for the Future
Help support Kronos' 50 for the Future as we develop this new learning library.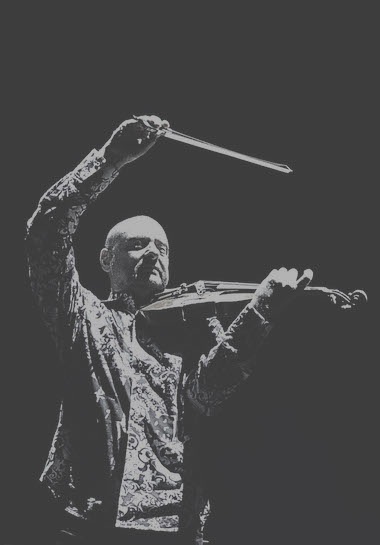 A good way to feel comfortable playing Pulsation is to watch Susie play percussion. She plays these incredibly difficult rhythms with such ease, and I think everyone should watch and learn from that. This piece helps you understand how to move and feel the rhythms internally, and how to have fun with them.
Kronos Quartet
World Premiere
August 11, 2019
Yoshi's Jazz Club
Jack London Square /
Oakland, CA
More Info